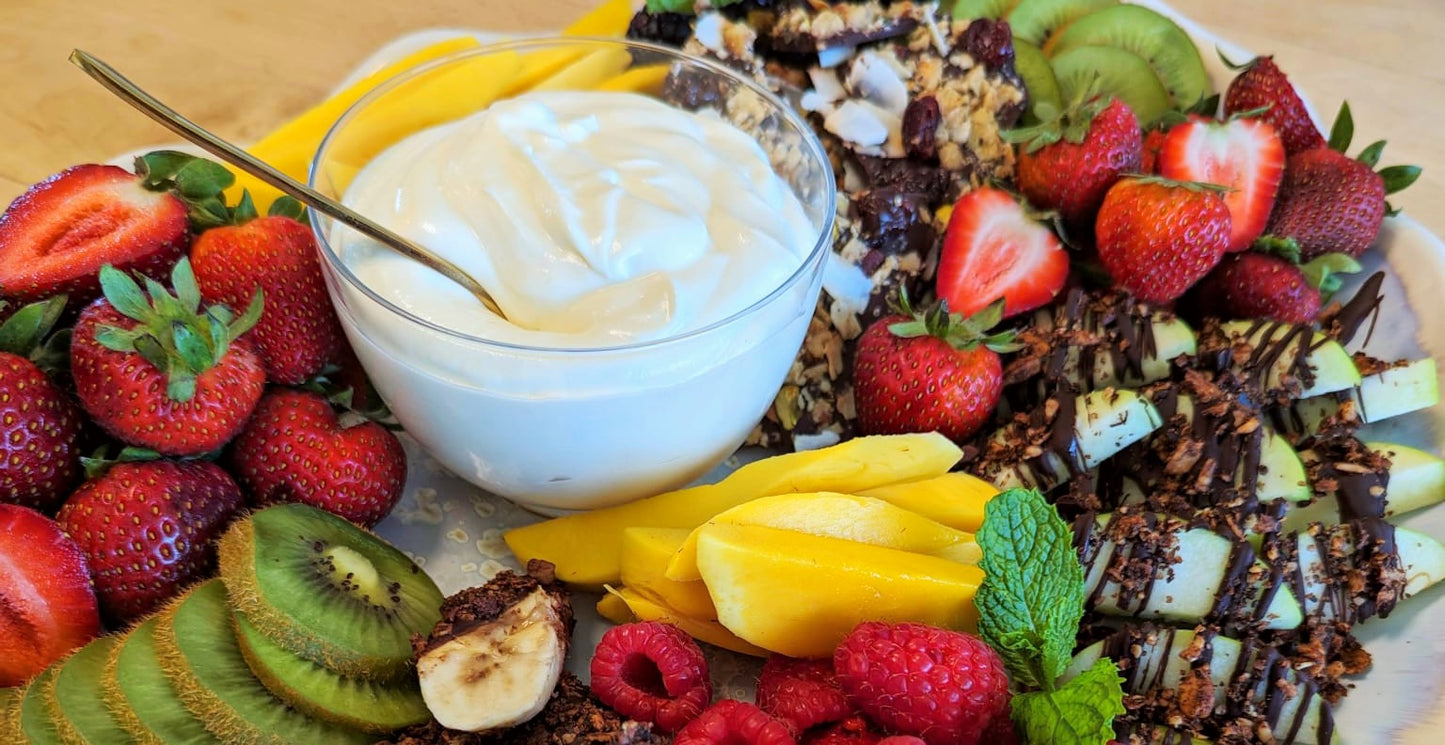 This is a healthy and indulgent, something-for-everyone dessert that requires no baking. You can prep the dip and fruit ahead of time, then whip it out and to wow your family and guests. Best of all, incorporate your favorite Struesli blend for something extra special.

For The Fruit Platter:
Struesli Original or Struesli Cacao + Coffee - or both!
Any combination of fresh fruits you like (we used: mango, strawberries, blackberries, raspberries, kiwi, apples, and banana)
Melted dark chocolate, to dip or drizzle
For The White Chocolate Cream Cheese Dip:
¼ cup plus 1 tablespoon milk, divided
½ cup white chocolate chips
¾ cup heavy cream
4 ounces cream cheese, softened
½ teaspoon pure vanilla extract
1. To make the White Chocolate Cream Cheese Dip, in a saucepan over medium-low heat, gently warm ¼ cup of the milk until small bubbles appear on the surface, then turn off the heat and stir in the white chocolate chips until smooth and completely melted; set aside to cool completely.
2. In a bowl with an electric mixer, whip the heavy cream to medium peaks and set it aside in the refrigerator to chill while you whip together the cream cheese, vanilla, and 1 tablespoon of remaining milk.
3. In a clean bowl, fold together the cooled chocolate mixture and the cream cheese mixture. Then gently fold in the whipped cream. Transfer the dip to a serving bowl and chill it until ready to serve your fruit platter.

Chocolate Struesli Bark
9 oz dark chocolate chips
½ cup of Original Struesli or Struesli Cacao + Coffee
2 tablespoons chopped pistachios (optional)
2 tablespoons dried cherries (optional)
1. Using a double boiler over medium heat, melt the chocolate chips. Once melted, spread the chocolate on a a parchment-lined baking sheet and use a spatula to spread it to an even thickness, about 1/4 inch or so (it won't cover the entire sheet).
2. Before the chocolate hardens, sprinkle the Struesli evenly over the chocolate. If using, add sprinkle the chopped pistachios and dried cherries over the chocolate, too. (May use any other nuts or dried fruit you prefer).
3. Refrigerate the baking sheet until the chocolate has hardened, at least 1 hour or overnight. Then break the chocolate into pieces and refrigerate the pieces until you are ready to assemble the fruit platter. 

Tip: For an added special touch, drizzle or dip chocolate over some of the fruit pieces, such as some sliced apples or strawberries, then sprinkle Struesli on them for added flavor and texture; refrigerate until the chocolate hardens.
To Assemble the Platter: Place the bowl of White Chocolate Cream Cheese Dip on the platter and decorate the fresh fruit around it. Add the Chocolate Struesli Bark and chocolate-dipped fruit to the platter. Set out for guests to enjoy!