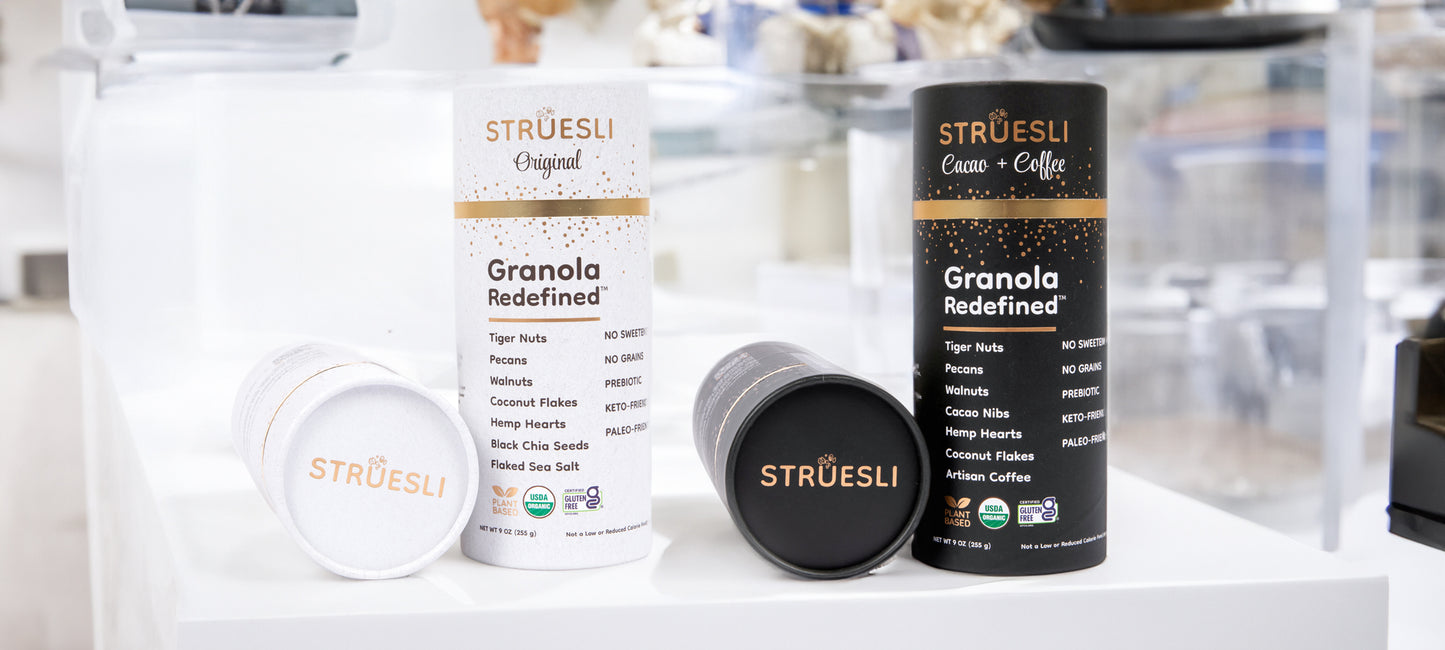 Not only is Struesli redefining granola, it's also redefining the way granola is packaged. Founder and chef, Adrienne, didn't miss any detail when she created Struesli, and that includes the unique packaging. Learn more about the beautiful white and black tubes that contain the best-for-you granola on the market. 
Tubers In A Tube!
One of our favorite phrases around here is that Struesli is "tubers in a tube!" By that, we mean that Struesli, which is based on fiber-rich tiger nuts (a tuber aka root vegetable), is packaged inside stylish and sleek tube-shaped canisters. Get it? It's tubers in a tube!

While you'll find many granolas that are packaged in cereal boxes, plastic bags, or kraft paper bags, you won't find many that come in a paper tube canister. 

"I just wanted it to stand out," says Adrienne, founder of Struesli. "I wanted it to be as unique on the outside as it is on the inside."
The sturdy paper cardboard canisters contain 9 ounces of Struesli, which is packaged in a resealable inner bag. Once opened, you can leave the granola in the bag or dump it from the bag right into the food-safe tube canister for safe keeping in your pantry. Not only are the tubes stylish and unique on the shelf, just like Adrienne envisioned, but they're also made of an excellent material choice for keeping Struesli fresh. The sturdy canisters don't allow light or air in, which helps the healthy ingredients in every package of Struesli stay fresh for longer. Simply store the canisters in your pantry or right on your countertop. 
The sleek canisters also make it easy to take Struesli with you on the go. Toss one into your purse, diaper bag, cooler, picnic basket, or backpack where it won't take up much room, thanks to the vertical design. That way, you'll always have a nutritious snack and condiment you can use anywhere. 
Packaging Redefined
Another favorite saying around here is that Struesli is "granola redefined," and that includes the packaging. When you've emptied a canister of Struesli, you can recycle the container, or better yet, repurpose and "upcycle" it, as many people do. 
"One of my friends uses them to wrap gifts," says Adrienne. "She fills the empty canisters with a T-shirt, candle, or something like that, and then wraps it."
Here are some other ideas for repurposing Struesli containers: 
as cases for pencils, markers, and crayons

as craft kits for kids 

to fill with snacks on the go

to hold dry beans, rice, or other bulk-purchased ingredients

to package a small bottle (it's the perfect size to hold most 6-8 ounce bottles or jars, as well as a split of champagne) 

as a desk organizer for scissors, pens, and more

to keep fragile items safe in a suitcase or bag

as a vase (use a liner or inside bottle to hold the water)

to fill with emergency items for the car (such as band-aids, sunscreen, a multi-tool, and flashlight)
"I Love The Packaging"
Another aspect of the packaging that is so unique is the beautiful white and black design with gold accents. 
"I wanted it to be sort of chic and sophisticated and appealing," says Adrienne of the design and branding, which were brought to life by the talented designer Sam Li.
"I wanted it to appeal to both men and women, and I wanted it to look good everywhere, from a grocery store shelf, to a boutique health food store, and even in a spa and on your kitchen counter. So that was sort of the theory behind the design. It's so chic and sort of sophisticated, and it can live anywhere."